Two weeks ago, the Windhoek City Police demolished a privately owned toilet at an informal settlement in the Samora Machel constituency.
The owner of the toilet, Theresia Mungungu, last week said the police demolished her newly constructed toilet, which she wanted to make available to community members since the majority of them are forced to use the bushes when nature calls.
"A few months ago, my shack was broken into by armed robbers who shot through the corrugated iron sheets. This was when I decided to build a wall inside the corrugated iron structure for enhanced security," she said.
"With the remaining bricks, I decided to build a toilet (pit latrine), which I felt could be of use to all the people around me, as there is currently no toilet in our area," she said.
Mungungu said apart from using the bushes, community members also relieve themselves in plastic bags.
"Upon completion of the toilet, I received a phone call from the person who did the construction work, as I was not at home at the time.
"I spoke to a City Police officer, who told me that the toilet was illegally built and that they were going to demolish it," she said.
In response, Mungungu conveyed her willingness to comply with any future development initiatives introduced by the city.
She said she was willing to dismantle the toilet if it would obstruct forthcoming plans.
"I was ready to demolish the toilet if it would hinder development plans such as servicing in the future, but it could have served us in the meantime," she said.
"For years, we have been asking the municipality to put up toilets for us in our area but they still have not responded, yet when we try to improvise for ourselves they come and destroy our structures," she said.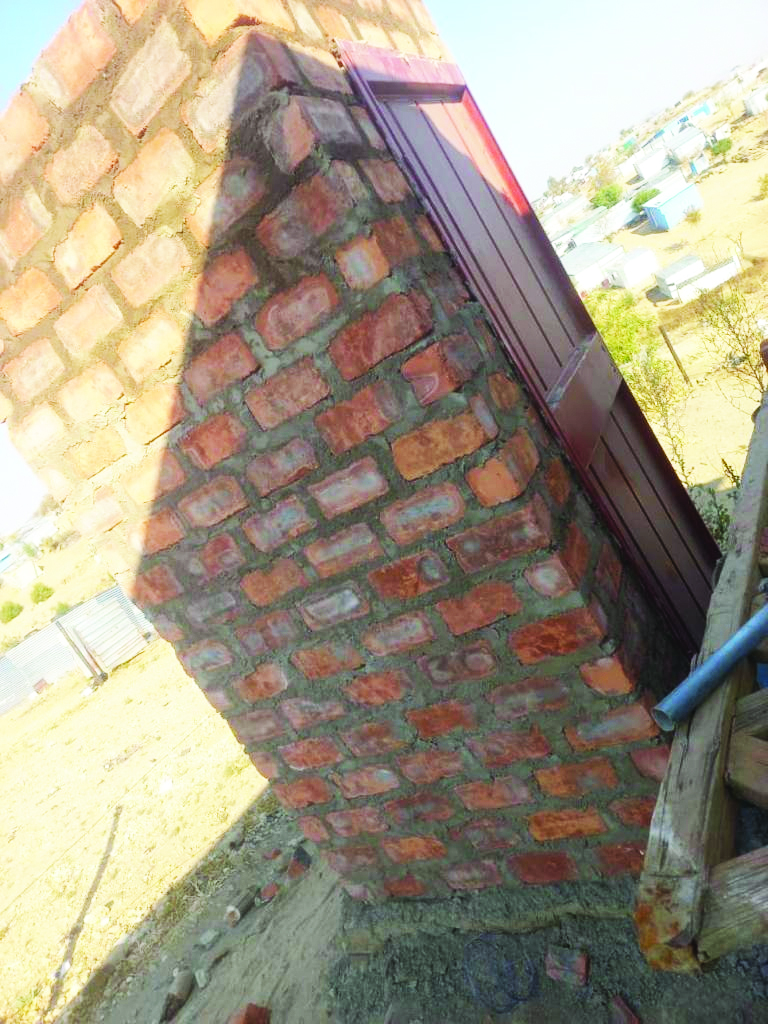 Windhoek mayor Joseph Uapingene has in the past said more than 80 000 people in the Samora Machel area still do not have access to basic services.
"The need for public services in the informal areas of Goreangab is urgent. To avoid a crisis, land must be available as a matter of urgency to allow the construction of primary schools, secondary schools, health centres and a police station, while a lease or purchase application is being prepared," he said. Constituency councillor Nestor Kalola confirmed the demolition, saying Mungungu had reported the matter to her. He says he sympathises with her.
"It was a great idea for her to build a toilet, as it would not only benefit herself, but others from her surroundings too, as there is no toilet nearby," he says.
Kalola says he is disappointed with the city's authorities.
"The absence of toilets means people go to the bush to relieve themselves, making them easy targets for rapists and all sorts of perpetrators," he says.
Kalola further calls for certain laws to be reviewed in order to accommodate everyone living in dilapidated conditions.
"Laws are made by people, thus those who make the laws should be considerate of the fellow human beings on whom they impose these laws," he says.
"The City of Windhoek has their staff members and councillors, and their responsibility is to engage community members to assess their needs and to find out how they can improve their living conditions," Kalola says.
He says the city council should not always wait for issues to be published in the media before they attend to them.
Windhoek City Police acting spokesperson Marcelline Murapo was unavailable for comment yesterday. She referred The Namibian to City of Windhoek spokesperson Lydia Amutenya, who said she is not the relevant person to talk to.
Amutenya, however, said she would provide feedback but did not respond to a follow-up email sent to her yesterday.