A Pharmacist appeared in the Lüderitz Magistrate's Court yesterday for allegedly assaulting his wife, Elizabeth Potgieter.
Erasmus 'Poenie' van Zyl, who was arrested on Tuesday, is facing a charge of assault with intent to do grievous bodily harm.
//Kharas acting regional police commander Godfried Kauhanda says Van Zyl was denied bail and his case has been postponed to 20 September.
The police say Potgieter has allegedly been suffering domestic violence at the hands of Van Zyl for a long time without reporting it to the authorities.
Van Zyl, who is the owner of Reich's Pharmacy at Lüderitz, was arrested after Potgieter laid a charge of assault against him.
"It appears the couple has a history of domestic violence where the husband allegedly beats his wife, and alcohol abuse is involved also," Kauhanda says.
He says Potgieter has not laid a complaint in the past and that she finally opened a case on Monday after the court granted her an interim protection order against Van Zyl last Friday.
Reports of Potgieter's alleged abuse went viral on social media when her sister, Ria van der Schyff, spoke out in an attempt to expose Van Zyl.
"Do you know this man? Poenie van Zyl, pharmacist at Lüderitz. My father would describe him sarcastically as a self-made man.
"Today I want to expose him by just posting a few photos of how he beats my sister. I also have voice notes made in his drunkenness in which he denies hurting her," she posted on social media.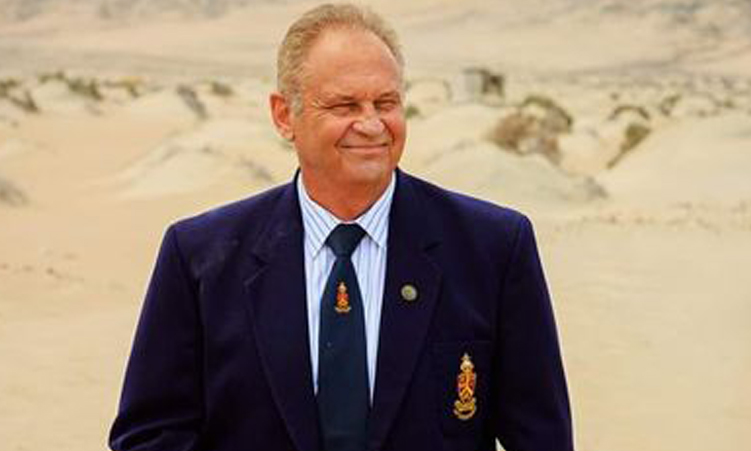 "This man is a former Recce and Koevoet (something he prides himself in). Now my question is: Is that how special forces trained persons to handle their wives?
"Is their training to smack their wives, beat them, pull out bunches of hair from their scalp, lock them out of their houses to freeze in the cold or to break their arms?" Van der Schyff asked.
She claims Van Zyl would not allow her sister to get medical treatment after assaulting her.
"For two weeks he kept her at home after breaking her arm. Thereafter he had the audacity to put her in a taxi to Windhoek to go and see a specialist.
"Elna (Elizabeth) was prohibited from speaking to me or my mother. She was not allowed to make contact with us, and if she dared to, she had to put the phone on loud speaker so he could hear what we were saying.
"He is even threatening to influence her employers to make her lose her job. This is something he also did in the past, and she lost her job as he is a prominent person whose wife cannot be working.
"He is a shame to other men who lead decent lives. He likes to pretend he is upstanding by sending people 'Jesus' messages, while he serves the devil in the afternoon and at night."
Van der Schyff urged Facebook users to share her post widely to stop the violence.
"Maybe jail is the best place for him, then he can also feel how my sister feels like a prisoner in that house of horrors," she claimed.