Riana Scholtz, a homeschooling mom from Uis and the owner of Namibia Ultra Trails, recently made history when she became the first Namibian to complete marathons on all seven continents, culminating in a gruelling race through the frozen expanse of the Antarctica.
Scholtz's journey began in 2015, with her first marathon in Zermatt, Switzerland. Over the years, she participated in races such as the African Otter Trail in South Africa, the Tarawera Ultra in New Zealand, the Great Wall Marathon in China, the Antelope Canyon in the United States, and the Ultra Fiord Trail in Patagonia, Chile.
Scholtz's husband, Nico, and their two boys have supported her at almost all of these events.
This year, Scholtz achieved her long-standing dream of joining the prestigious Seven Continents Club by completing the Antarctica Marathon on King George Island. This accomplishment marked the realisation of an eight-year dream.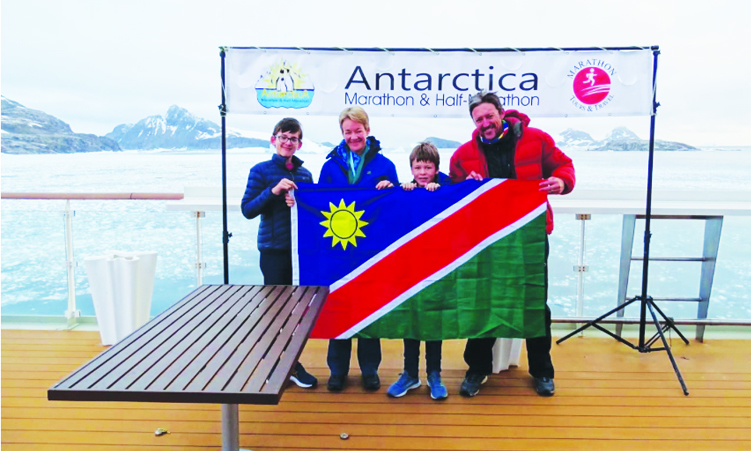 Scholtz, who also organises the annual Brandberg Backyard Ultra at Uis, says she marvelled at the incredible experience of setting foot on Antarctica.
"The glimpse we had of the seventh continent down there at the bottom is just incredible," she says.
She and her family sailed through the treacherous Drake Passage, 1 000 kilometres southeast of Ushuaia, Argentina, to reach the icy continent.
She says the Antarctic marathon was a unique challenge for her, as she is accustomed to the arid climate of Namibia.
She recalls the bitter cold on race day: "It was only zero degrees, but there was a wind of about 30 knots, which was challenging, but doable."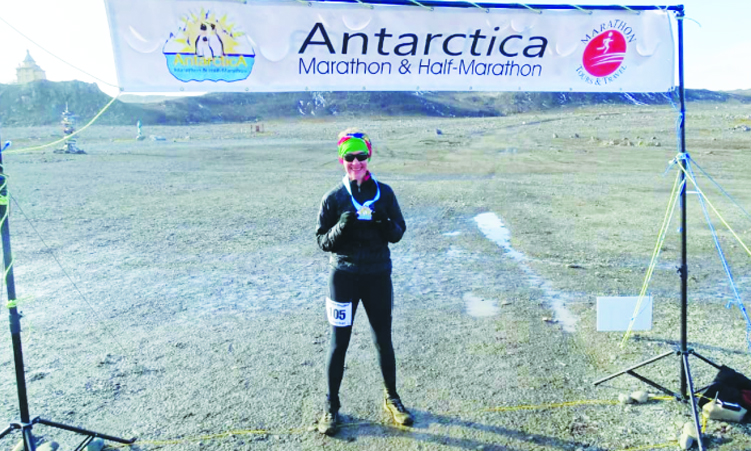 The race itself consisted of six laps of 7km each (a marathon distance of 42km), between the Russian and Uruguayan research stations. Scholtz fondly remembers a unique start to the race, saying: "To have six Gentoo penguins pitch up at the starting line just before we set off, that's something that you just can't explain and you hope that your kids will remember."
Her children and husband, who also participated in a half marathon the following day, finishing first in his age category.
The family proudly displayed the Namibian flag throughout their journey.
"Everyone that talks to us and sees us with the flag, they know about our beautiful country and how proud we are to call ourselves Namibians," she says